To join Dipterists Forum and pay online, go to the Join DF page.
Scroll down to click on the type of subscription you need from the "Add to cart" options. These options are:
Membership of Dipterists Forum (full membership, you receive the Bulletin twice a year, but not the Dipterists Digest journal)
Subscription to Dipterists Digest (you receive the Dipterists Digest journal but are not a full member and do not receive the Bulletin)
Member + subscriber (full membership of Dipterists Forum, including receiving the Bulletin, plus subscription to Dipterists Digest journal)
Overseas member (equivalent to Member + subscriber, but a with higher subscription charge to cover postage costs)
Once you have clicked on your chosen subscription, click on the green "Add to cart" button:

The next step is not very obvious: you now need to click on the "your cart" link, which will appear at the top of the page: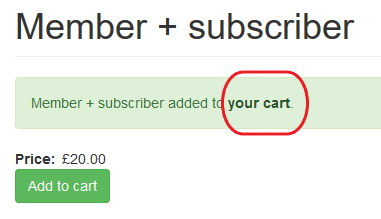 (DON'T click on the "Add to cart" button again, that will add a second subscription to your payment.)
You can now check that your Shopping cart contains the correct options. If it doesn't, you can adjust the Quantity or use the Remove button to empty the cart and start again:

Once you are happy that the details are correct, click on the "Checkout" button, and you will be asked to add some details. Please note that we are unable to accept payment via PayPal at the moment, so you will be using the offline payment option. Your membership request will be forwarded to the membership secretary, but you will need to arrange payment via cheque or bank transfer before your membership can be activated (see payment options on the Join DF page).
You will also need to say whether you wish to subscribe for the current calendar year (in which case you will be sent any publications that went out earlier in the current year) or for the following year (in which case your subscription will start the following January and you will receive all publications for the subsequent year).
Once your application has been completed the membership secretary will be informed and will contact you.
If you experience any difficulties please contact the membership secretary.