Taxonomic Group (English): Blowflies
Taxonomic Group (Scientific): Diptera: Calliphoridae, Polleniidae

and Rhiniidae

Scheme Organiser: Olga Sivell
Address: 96 Hollybush Road, Luton, LU2 9HQ
An introduction to the Calliphoridae Recording Scheme was provided in DF Bulletin #81 p8.
NEW: RES key to Calliphoridae, Polleniidae and Rhiniidae
Scheme organiser Olga Sivell has written a new key to the three blow-fly families, to be published by the Royal Entomological Society. Using high quality diagnostic photographs throughout, the Handbook has been created to satisfy the need for an up-to-date identification tool for both enthusiast and professional entomologists.
Available from:
Can you help us trap carrion-feeding flies?
The aim of the project is to record blow fly species attracted carrion in order produce up to date distribution maps and learn about the seasonality of different species. The results of the experiment will contribute to papers published in peer reviewed journals and the data will be made available for future research through the NBN Atlas. The results will contribute to a PhD thesis.
To take part you need to construct a trap from plastic bottles, hand it in a suitable location, and bait it with a small amount of chicken or pig liver. Specimens caught in the trap should be frozen and sent back to the recording scheme. For full information please download our protocol document.
Recording scheme poster (pdf download, 4.6 MB):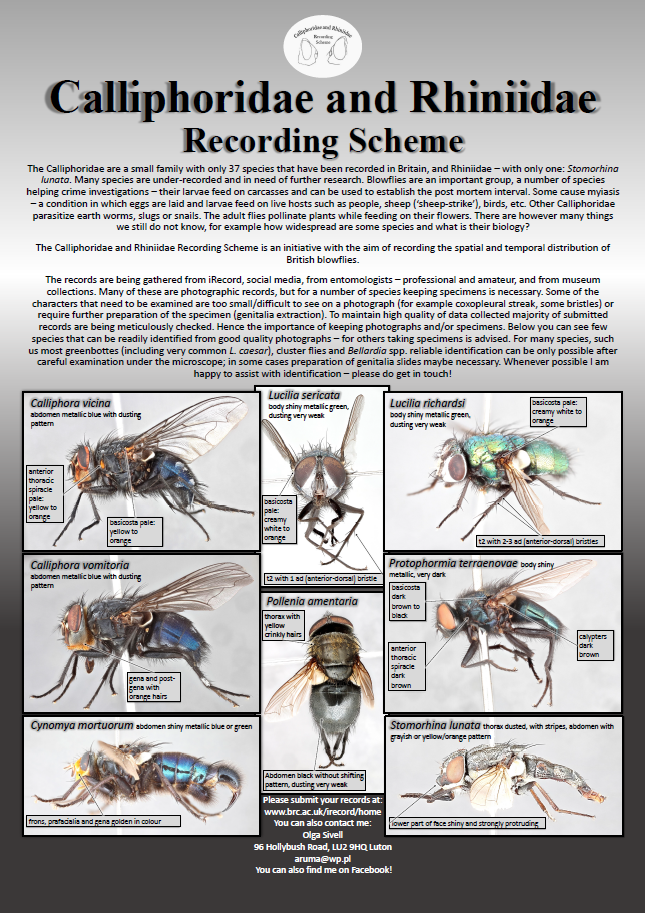 Guide to species of forensic importance (pdf download, 6 MB):